KZ brand Fan bearings helps the blades to run smoothly. The purpose of the fan bearing is to reduce rotational abrase, and to support axial load. For large electronic systems, fans are an important component designed to maintain the system within the recommended temperature, which ensures that the electronics function perfectly and last their full operating lifetime. In addition KZ fan bearings are designed to meet the need of domestic fans with low maintenance costs.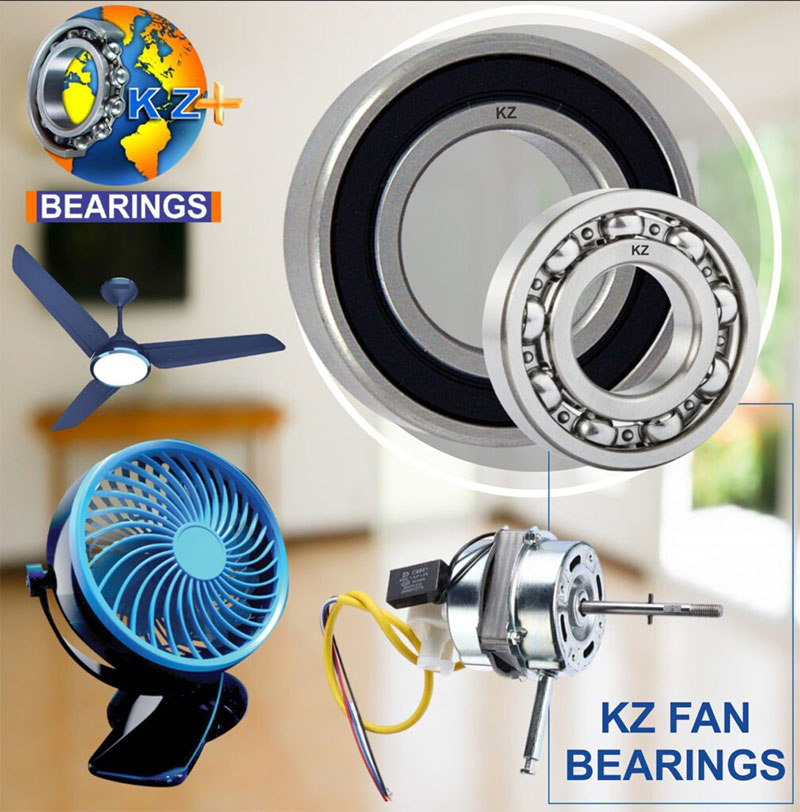 Ball bearing
Single row deep groove ball bearings are the most widely used in the world because of their versatility and overall performance. Ball bearings are characterized with low friction, high stiffness, and Mute, runs. Ball bearings are suitable for high rpm. These bearings can simultaneously transmit radial and axial forces. Ball bearings have a lower load capacity for their size than other types of rolling-element bearings due to the small contact area between the ball and the race. However, they can tolerate some misalignment of internal and external races.
KZ Bearing Series:
6000, 6200, 6300, 6400, 6800, 6900, 16000, 63000, RLS, RMS
SEALS / SHIELDS: Z, ZZ, RS, 2RS
Double row deep groove ball bearings are very convenient, for bearing arrangements where the load carrying capacity of single row bearing is Inadequate. For the same bore and outer diameter, double row bearings are slightly wider than single row bearings in the 62 and 63 series, but have higher load bearing efficiency. Double row bearings have deep, sustained raceway grooves that have close engagement with the balls, enabling the bearings to adapt radial loads and axial loads in both directions.
3000, 3200, 3302, 4200, 4302
SEALS/SHIELD : OPEN, Z, ZZ, RS, 2RS
Material: Chrome Steel SAE 52100 and Stainless Steel
Quality: ABEC1, ABEC3
KZ Fan Bearing offer:
* High speed
* Low radial Load
* High thrust load
KZ Bearings Deep groove ball bearings
Email - sales@kgbearing.com
Follow us for wide range of bearings at https://www.instagram.com/kgbearingindia/
Applications and Industry: AGRICULTURE, AUTOMOTIVE, CEMENT INDUSTRY, CRUSHER INDUSTRY, HEAVY MACHINERY EQUIPMENTS, HOME APPLIANCES, MINING SECTOR, METAL INDUSTRY, FLUID MACHINERY, TEXTILE INDUSTRY