We have wide range of KZ EXCAVATOR BEARINGS. Our KZ Brand bearings are design to provide heavier load capacity ,high-accuracy, low-noise, longlife.Material: Chrome Steel SAE 52100 and Stainless Steel Quality: ABEC 1, ABEC3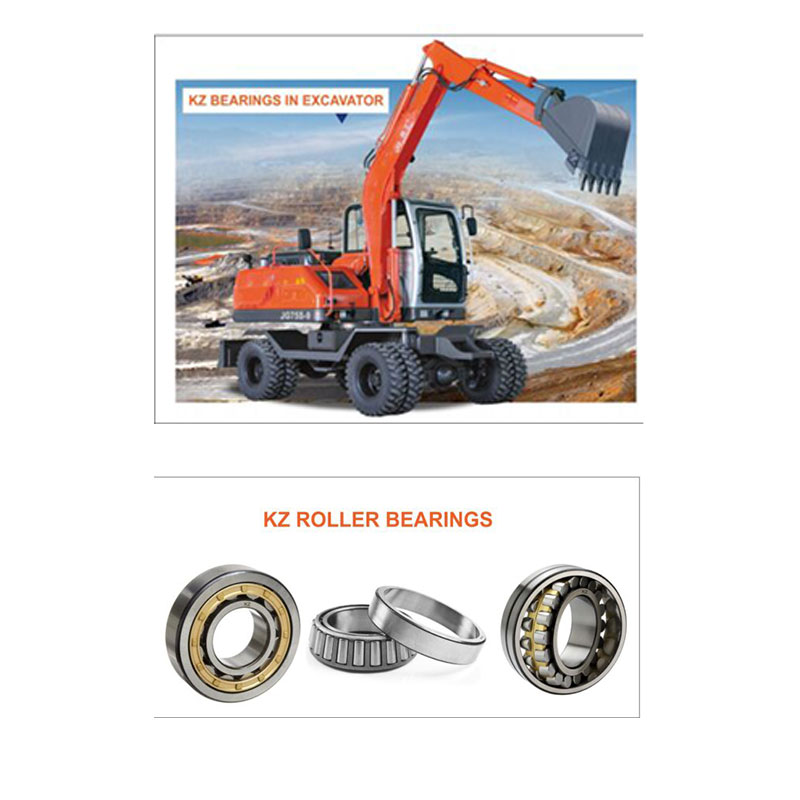 KZ rollers bearing
Rollers are in cylindrical, tapered, spherical, or needle, depending on the purporting application of the bearing, made from carburized alloy steel as carburization leaves beneficial residual compressive stresses on the roller surface.
Unlike ball bearings, which are usually pre-assembled purchased and installed, roller bearings can vary, the race is pressed on the shaft and individually in the housings, with closed rollers then installed between them. Cages can be made of stamped steel, mechanised bronze, polymer, etc., Depending on the application and quantity requirements of any bearing. Pin-type roller cages are sometimes used in very large bearings.
CHOICE
Consider the type, grade, lubricant, any shielding / seal and original load rating. If the bearing will be subject to shock while still being stable, consider its static load rating as well. Shock loading will also be a factor of effective life while operating. Bearing bore and ODs match the original shaft size and housing holes, and bearings are available in both millimetre and inch dimensions to suit these basic sizes.
BALL & ROLLER
Common guidelines are, roller bearings are used at lower speeds and have higher loads than ball bearings. Roller bearings are preferable for under shock and force loading. Ball bearings tolerate misalignment better than roller bearings. Roller bearings can handle heavy combined radial and thrust loads.