Automotive Industry particularly use Taper Roller bearings for their heavy machinery applications.
Here are some specifications of this type of bearing.
These types of roller bearings are designed to offer balanced performance for large axial loads as well as large radial loads.
FEATURES OF TAPERED ROLLER BEARING:
The tapered roller bearing consists of an inner ring, an outer ring, tapered rollers and a window cage which serves to hold the rollers in place. Generally, the inner ring, the tapered rollers and the cage that form the cone are all in one piece that can be mounted separately from the outer ring.
The tapered angle allows the tapered roller bearing to support large axial and radial loads in one direction. It is generally necessary to provide axial guidance in the other direction by opposing a second bearing. It is also the angle and the axis of the bearing which determine the ratio between the axial capacity and the radial capacity.
The tapered roller bearing must be serviced. It must therefore be regularly lubricated with grease or oil. It can be used in a variety of environments with temperatures ranging from -30 ° C to +120 ° C. Breakage may occur if the tapered roller bearing moves in extreme temperatures.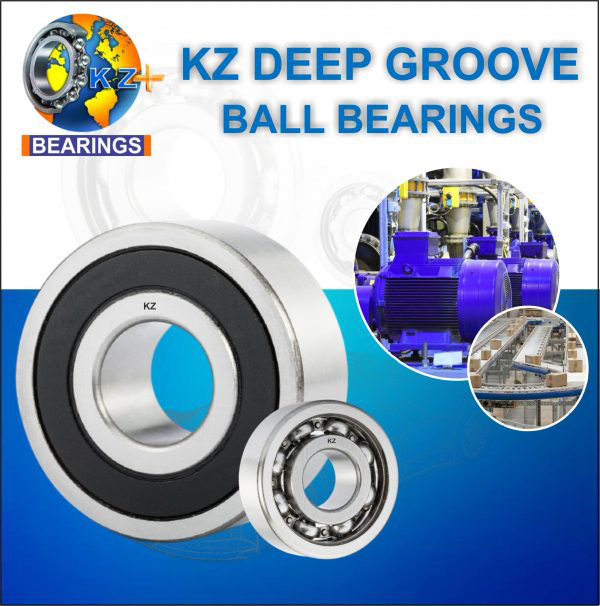 ITS MAIN APPLICATIONS
It is used in many industrial applications. It is ideal for guides that have to undergo extreme loads. It is also found in applications where radial loads are important and rotational speeds are high.
Tapered roller bearings are essential in sectors such as agriculture, construction, mining, engines and propellers. At the industry, paper mills, cement plants and oil companies are few examples where tapered roller bearings are found.
TYPES OF TAPERED ROLLER BEARING
Though they are very relevant, there are several models of tapered roller bearing, each with certain characteristics. The single row tapered roller bearing is the simplest and most frequently consumed model. Generally mounted in pairs, it consists of a cone and a cup. There is a variant of this model where the cup is provided with a collar to facilitate axial positioning.
KZ TAPER ROLLER BEARINGS are rolling element bearings designed in a way that can support axial as well as radial loads.
*KZ BEARINGS INCH SERIES: LL, L, LM, MH, H, HH, E
*KZ BEARINGS METRIC SERIES: 30200, 30300, 31300, 32000, 32200, 32300, 33000, 33100, 33200
Material: Chrome Steel SAE52100/100Cr6/GCr15 and Stainless Steel
Quality: ABEC1, ABEC3
Follow us for wide range of bearings at https://www.instagram.com/kgbearingindia/