We have huge inventory of KZ ANGULAR CONTACT BALL BEARING. KZ Bearings designed to accommodate combined loads. These bearings are available in a shield and seals.
Angular contact ball bearings have inner and outer ring raceways that are displaced relative to each other in the direction of the bearing axis. This means that these bearings are designed to accommodate combined loads, i.e. simultaneously acting radial and axial loads.
Angular contact bearings are ideal for use in gearboxes, pumps, electric motors, and clutches or other high-speed applications. ACBB are commonly used in the Materials Handling, Steel Mill, Machine Tool and Wind Energy industries.
The difference between Deep groove ball bearing and Angular contact ball bearing :
Deep groove ball bearing and angular contact ball bearing are representative rolling bearings with capability of carrying radial load and bidirectional axial load, they are widely used to many applications. They are suitable for high speed rotation and low noise and vibration conditions.
Deep groove ball bearings are the most common type of bearings. It mainly tolerates radial load, and can also bear radial load and axial load at the same time. When it bears only radial loads, the contact angle is zero. When deep groove ball bearings have large radial clearance, it exhibits angular contact bearing and can tolerate large axial loads. The friction coefficient of deep groove ball bearings is very small and the limit speed is very high.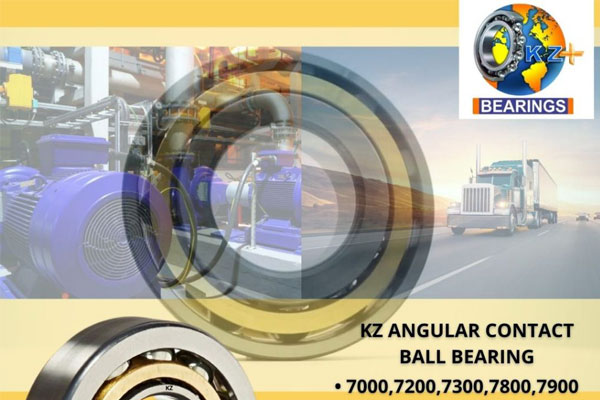 These bearings can accommodate axial loads in only one direction, usually adjusted against each other bearing and have non-separable rings, to give it a relatively high load carrying capacity involving a large number of balls.
With a design corresponding to two single row bearings arranged back-to-back, but where two single bearings take up too much axial space, they can accommodate radial and axial loads in either direction or tilting moments.
Material: Chrome Steel SAE52100/100Cr6/GCr15 and Stainless Steel
Quality: ABEC1, ABEC3
Email your inquiry - sales@kgbearing.com
KZ Bearings https://lnkd.in/eq_-RSG
Applications and Industry: AUTOMOTIVE ,HOME APPLIANCES, METAL INDUSTRY, FLUID MACHINERY, TEXTILE INDUSTRY, AEROSPACE APPLICATIONS, MACHINE TOOL APPLICATION, PUMPS AND MOTORS, RAIL ROAD APPLICATIONS